Books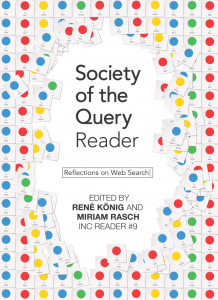 König, R. and Rasch, M. (eds.), 2014, Society of the Query Reader. Reflections on Web Search. Amsterdam: Institute of Network Cultures.
More information/Download/Order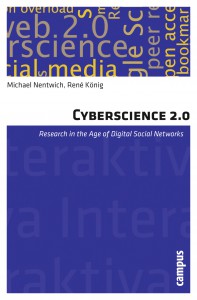 Nentwich, M. and König, R., 2012, Cyberscience 2.0. Research in the Age of Digital Social Networks. Frankfurt/New York: Campus.
Diploma thesis
König, R., 2009, Eine Bewegung für die Wahrheit? Gesellschaftliche Wirklichkeitskonstruktion in Wikipedia am Beispiel alternativer Deutungen des 11. September 2001. Diploma thesis, Bielefeld University.
Abstract & full text
Journal articles & book chapters
König, R. and Sumpf, P. (forthcoming), Hat der Nutzer immer Recht? Zum inflationären Rückgriff auf Vertrauen im Kontext von Online-Plattformen, Soziale Welt, Sonderband, Soziologie des Digitalen – Digitale Soziologie?
König, R. and Nentwich, M., 2017, Soziale Medien in der Wissenschaft, in: Schmidt, J.-H. and Taddicken, M. (Eds.): Handbuch Soziale Medien, Wiesbaden: Springer, 169-188.
Abstract & full text
Orwat, C.; Heil, R.; Hügle, A.; König, R.; Merz, C., 2015, Big Data und die gesellschaftlichen Folgen, Technikfolgenabschätzung – Theorie und Praxis 24 (2), 83-87.
Abstract & full text 
Orwat, C.; Heil, R.; Merz, C.; Hügle, A.; König, R. and Grunwald, A., 2015, Im Sog der Daten. Herausforderungen des "Big Data-Zeitalters", in: Institute for Technology Assessment and Systems Analysis (Ed.): ITAS Jahrbuch 2014/2015, Karlsruhe: KIT-ITAS, 52-55.
König, R. and Nentwich, M., 2014, Cyberscience 2.0: Wissenschaftskommunikation in der Beta-Gesellschaft, kommunikation@gesellschaft 15.
Abstract & full text
Nentwich, M. and König, R., 2014, Academia Goes Facebook? The Potential of Social Network Sites in the Scholarly Realm, in: Bartling, S. and Friesike, S. (Eds): Opening Science. The Evolving Guide on How the Web is Changing Research, Collaboration and Scholarly Publishing, Heidelberg/New York/Dordrecht/London: Springer, 107-124.
Online version
König, R., 2013, Wikipedia. Between lay participation and elite knowledge representation, Information, Communication & Society 16 (2, Special Issue: Participatory Knowledge Production 2.0: Critical Views and Experiences), 160-177.
Abstract
König, R., 2013, "Google WTC-7" – Zur ambivalenten Position von marginalisiertem Wissen im Internet, in: Anton, A., Schetsche, M. und Michael, W. (Eds): Konspirtation. Soziologie des Verschwörungsdenkens, Wiesbaden: Springer VS, 203-220.
Nentwich, M. and König, R., 2012, Academia and social network sites, in: Ockenfeld, M., Peters, I. and Weller, K. (Eds): Social Media und Web Science. Das Web als Lebensraum. 2. DGI-Konferenz, 64. Jahrestagung der DGI, Düsseldorf, 22. bis 23.03 2012, Proceedings, Frankfurt (a.M.): Deutsche Gesellschaft für Informationswissenschaft und Informationspraxis e.V. , 293-303.
Full text (PDF) 
König, R. and Nentwich, M., 2012, Auf dem Weg zur Cyberwissenschaft 2.0, Soziale Technik 22(1), 11-14.
Full text (PDF)
Nentwich, M. and König, R., 2010, Peer Review 2.0: Herausforderungen und Chancen der wissenschaftlichen Qualitätskontrolle im Zeitalter der Cyber-Wissenschaft, in: Gasteiner, M. and Haber, P. (Eds): Digitale Arbeitstechniken für die Geistes- und Kulturwissenschaften, Wien/Köln/Weimar: Böhlau UTB, 143-163.
König, R. and Nentwich, M., 2010, Interactive Science. Chancen und Risiken von Internetplattformen für die Wissenschaftskommunikation, Soziale Technik 3, 11-12.
Full text (PDF) 
Popular media
Audersch, T. and König, R., 2014, Die Anomalienjäger.  9/11 als historischer Testfall für die digitale Öffentlichkeit. September 11, Telepolis.
Full text (HTML)
König, R., 2012, Google, Autocomplete und 9/11: Konstruiert die Suchmaschine kulturelle Unterschiede?, Berliner Gazette, 01.11.2012.
Full text (HTML)
König, R., 2012, Wechselbeziehung zwischen Wikipedia und Wissenschaft. Von der Zwangsehe zur produktiven Kollaboration?, Dossier Wikipedia, Bundeszentrale für politische Bildung, 10.10.2012.
Full text (HTML)
Research reports
Leimbach, T., Friedewald, M., Nentwich, M., Strauß, S., Weber, A., König, R., Hennen, L. and Skodt, J. N., 2012, Cloud Computing – European Perspectives on impacts and potentials of Cloud Computing and Social Network Sites. Interim Report – Phase I, Science and Technology Options Assessment (STOA), European Parliament.
Abstract & full text
Nentwich, M. and König, R., 2011, Wissenschaft und Social Network Sites. Steckbrief 5 im Rahmen des Projekts Interactive Science, Vienna: Institute of Technology Assessment.
Full text (PDF)
König, R. and Nentwich, M., 2010, Google, Google Scholar und Google Books in der Wissenschaft. Steckbrief 3 im Rahmen des Projekts Interactive Science, Vienna: Institute of Technology Assessment.
Full text (PDF) 
König, R. and Nentwich, M., 2009, Wissenschaft in Wikipedia und anderen Wikimedia-Projekten. Steckbrief II im Rahmen des Projekts Interactive Science, Vienna: Institute of Technology Assessment.
Full text (PDF)
König, R. and Nentwich, M., 2008, Wissenschaft in "Second Life". Steckbrief I im Rahmen des Projekts Interactive Science, Vienna: Institute of Technology Assessment.
Full text (PDF)